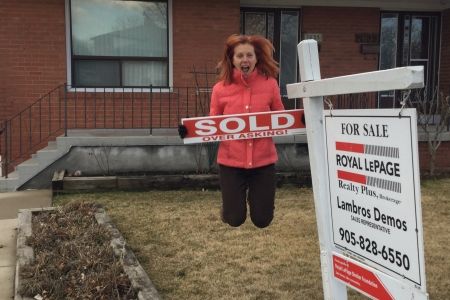 "Lambros, your guidance, patience, and advice during this three year process showed us how a true professional operates in the world of real estate. We saw first hand the true value that YOUR ethics brought to the table, What we owe you, our friend, is beyond evaluation."
- John Birks & Johanne Cournoyer-White, Brampton
Well...if you've never purchased and/or sold a home before - the first question most would ask - what do I look for in a real estate agent? We had purchased and sold a home before and we knew what we needed...then we met Lambros! His professionalism, experience, knowledge of the market, community involvement and marketing flare is second to none! He consistently goes the extra mile and never leaves you hanging (his response time is extraordinary). He got the job done - in 3 days!
- Suzanne & Bob MacDonald, Brampton
"Lambros, I just wanted to say thank you for your wealth of knowledge and expertise in finding the dream home I wanted! My family and I are very happy with the choice made, I really appreciate all the work you did. With your wisdom, patience, integrity, and kindness I would recommend you to everyone looking into buying or selling a home... you truly are a great agent. "
- Barbara Taylor, Brampton

"The experience of selling our home of 10+ years and buying a new house would have been much more stressful without Lambros Demos. Thank you, Lambros, for all your hard work in the sale of our home and assisting us to find our dream home! Our house sold in 2 weeks. Lambros is an example of how to build a trusting relationship with his clients and how to sell property!"
- Rob and Janice James, Brampton
"Helpful and engaging and nothing is too much to ask. Lambros has been key in managing my stress levels with an international relocation - without him, I couldn't have done it!"
- Renate Thompson, Mississauga
"Many thanks to Lambros for his expert guidance and professional yet very friendly approach. We were facing a daunting challenge as a pair of immigrants in Canada looking to buy our first home in a relatively short period of time. Lambros promptly reached out to us after an initial inquiry, familiarized himself with our situation and immediately set down to work. He organized many viewings in an absurdly short period of time, patiently answered every question, provided us with expert referrals and remained our solid anchor for the whole process. Always in good spirits, he made us feel like our comfort was the most important thing in the world. I never thought that such a huge commitment could be done relatively easily, but Lambros made it all as smooth as possible. We cannot recommend him high enough as he truly goes the extra mile for his clients."
- Monika Pajek & Marek Paterczyk, Mississauga
"We engaged the services of Lambros Demos in March 2017 to sell our Mississauga home and to help us purchase another. He was very efficient and gave us great advice in preparing for the sale. As part of his service he brought in a stager to provide additional advice on showing the house. Lambros made every effort to accommodate us as the scenario kept changing. He held two open houses and we received an offer in short order which we accepted. Everything went very smoothly. We drove Lambros nuts on our purchase search. With prices fluctuating so fast our search was constantly being refined. He was very patient and always in good humour as we put several hundred kilometers on his car. He finally found us a house in an area we feel comfortable in and negotiated a closing date which is very close to the closing on the sold property. He certainly went far above and beyond with all the assistance he has provided us. We are very grateful for all his work. Sincerely,"
- Alexandra Bernal & Tom Church, Cambridge
"The decision to buy a home wasn't one that my husband and I did voluntarily. We were asked to vacate our rental property and given 60 days to move our family out. Having rented for many years, we felt that it was time to build equity for ourselves. I had met Lambros a couple years back and called him in a panic letting him know the details of our situation. Lambros was very quick to respond and I cannot speak enough of the patience he exhibited towards our decisions and indecisions. Buying our first home was a scary thought and he talked us through it like a pro. He made himself available at all times to answer our questions and take us through many properties until we found "the one". When we finally did find a home we loved, he carefully and thoughtfully gave us insight on what we should be looking for and what his research showed that the property was worth. His expertise, guidance and support throughout this process was unwavering and he was a very calming presence before, during and after the negotiation process, especially since we faced a multiple offer situation. We feel very lucky to have chosen such a kind, attentive, and knowledge professional to help us begin our new chapter and would highly recommend Lambros to anyone who asks. Thank you Lambros for helping us with the biggest investment in our lives…we look forward to a continued relationship and of course you are more than welcome to any of our BBQ's…you know where we live!"

- Brian and Linelle Palmer, Brampton
"Lambros, we wish to express our appreciation for the excellent job you have done preparing us to put our home up for sale. We were impressed with your professionalism, real estate advice and dedication to selling our house quickly. Your knowledge of current market trends and patience with our many questions assisted our decisions, to best prepare our home for sale. Also, we thank you for your encouragement during our renovation process and we highly recommend your professional service to others."
- Ruth and Nelson Gray, Brampton
"If asked to use one word to describe Lambros as a real estate agent, I would say "honesty". We, at all times, felt that Lambros was working for us and had our best interests at heart. We sold our home in Barrie and bought a home in Brampton, at a time when the bidding wars were overwhelming and Lambros managed to guide us through this process relatively unscathed. We would highly recommend Lambros Demos to anyone that would ask!

- Michael & Raquel Lee, Brampton
"I am very happy with Lambros as my real estate agent. With his guidance and hard work, I was able to exceed my goals of downsizing my condo apartment and coming out with some cash. Lambros was very professional during the entire process, keeping me informed, keeping me positive, and providing good advice and great representation. I highly recommend Lambros for any and all of your real estate needs!"
- Phoebe Auld, Mississauga
"I have known Lambros for many years, and can easily say he is one of the most intelligent, loyal, hard-working and capable individuals I've ever met. His attention to detail and understanding of people's needs is an immeasurable asset, as is his patience and integrity. This is not a man out to make a quick profit - he will employ every avenue at his disposal to ensure his clients are completely satisfied with the outcome of their transaction. I very highly recommend his services and wish him every success in all his endeavors."

- Joanne Stamatopoulos, Toronto
"Lambros is a great real estate agent. He patiently showed us many houses before we found the one that suited our particular needs. We were in contact multiple times daily, he is very much on top of it all. He went above and beyond his duties as an agent and made himself available anytime to fit in with our schedules. He ended up finding us a great house, in a beautiful neighborhood, within our budget. We would definitely use him again!"

- Michelina DelSonno, Mississauga
"When looking for real estate you want to ensure that someone is on top of things, especially with the speed at which things sell. Trust Lambros on this, he will make sure you know what's going on, and will get it for you too!"

- Jivan Sanghera, Burlington
"We met Lambros when my parents were selling and buying. Shortly after, when it came time for us to do the same, we contacted him because we saw the work and commitment he did for my parents. It was our first time selling a place which was extremely stressful. He did his best to keep our stress levels minimized through his commitment and professionalism. He offered his professional advice when it was necessary. He never doubted that our home would sell and it did! Similarly, when we were buying, he was looking out for our best interests and guiding us in the process. Oh yeah, he is also fun to work with! We strongly recommend Lambros!"
- Stephen & Vedrana Roca, Milton

"As a senior, who was selling my home of 20 plus years, I needed a real estate professional who would make the entire process less daunting. Lambros was informed and professional real estate professional resulting in the sale of my home for over 10% above list price. But beyond that, Lambros was patient and extremely helpful in helping me navigate all the little details along the way. From our initial meeting through to the closing day, Lambros was a reliable resource and went above and beyond my expectations."
- Dianne Fallis, Mississauga

"I cannot begin to express how pleased my wife and I were with the expertise, attentiveness, warmth, and professionalism that was displayed by Lambros Bryan Demos in the recent selling of our last home and the purchase of our present home. From the initial meeting, everything was made clear and great advice was given in relation to all aspects of the sale such as pricing, when to put it on the market, staging, and more. During buying he was very professional, organized, and honest in pointing out both the positives and negatives of the homes that we viewed. Additionally, he kept us informed throughout the process, arranged getting bookings on times requested, and we never felt pressured into anything. Lambros was successful in helping us sell our house over asking price and buy relatively stress-free our present home. We would not hesitate to use his services again and highly recommend him for all your real-estate needs! He is truly one of the best in town!"

"Lambros, you made the sell of our house so incredibly pleasurable. I was delighted with your professional service, you gave me your highest attention right through the whole process. Your decision to bring in a Home Stager and the Home Inspection professionals showed you dedication to the sell of the house. You not only sold our house so quickly but you sold it above our cost. I highly recommend Lambros services and wish him great success. Thanks,"
- Rick D'Andrea, Oakville

"I was very happy with the experience of selling our house with you, Lambros. It was a very pleasant experience. Your professionalism and obvious experience was very much appreciated.

You provided a great virtual tour of the house, and your suggestions of how to prepare and present the house were very enlightening. I was very impressed with your promptness to reply to any questions I had. I have recommended your service to friends

.

All the best!"
- Robert Georgieff, Oakville
"I am very happy with Lambros Demos as my real estate agent and very impressed by the service he provides. He is very professional and knows the market very well. He really listened to me and understood my needs and then went over and above the call of duty to get my home sold quickly after I bought a new one!"

- John A. Nichol, Brampton
"I would like to take this opportunity to share a story with you about my experiences with Lambros Demos. Throughout my time networking with him, I learned that he is the type of person who is not only focused on his results but how he can "give back" to those who help him. He appeared to have a strong "service culture", aside from his role in a demanding and often ruthless sales career. My reason for committing to his services was because of how amazing every nteraction was with him on the phone and through email communication. I knew he was my guy!

Lambros ensured I was set up for success by sending a Home Stager to see if I had any opportunities for improvement and arranged a pre-listing home inspection so I went into the process with my eyes wide open. The house sold quickly and Lambros remained focused throughout the entire process. He was prompt, accurate, and diligent with all the processes in selling my house, which definitely eased the stress for my family and me. He even referred me to an amazing agent for my house purchase out of town.
I would like to thank you for taking the time to read my story. It is human nature to quickly complain or recognize poor service, but accolades for exceptional service often go un recognized. If you, or anyone you know is in need of a Realtor and you want to be treated the way I was, then Lambros is the person you need to hire. If you need to reach me for any further questions, then please do not hesitate to reach out. I will be happy to share more of my positive experiences with Lambros. Sincerely,"

- Tracy Morrison, Brampton